About Us
Hello, and thank you for visiting Grace and Truth Online.

We are Ian and Rachel Potts. We are both Christians and live in Honiton, Devon, England, with our young sons, Benjamin (born 9th July 2003) and Joshua (born 1st February 2005).

This website was originally set up (in 2000) to proclaim the Gospel of Christ and witness to the salvation which we have both received freely by Grace through the faith of the Lord Jesus Christ.

We pray that the Lord might use the scriptures and messages on this site to His Glory.



Questions and Answers

At times we are asked various questions about ourselves and this website. Click here to read Ian's answers to such questions as "What makes you a Christian or how did you become a Christian?" and "What is the Gospel of Jesus Christ?"

If you would like to know more about the Gospel of the Lord Jesus Christ, or have any questions or comments please email us at: ianpotts@graceandtruthonline.com or rachelpotts@graceandtruthonline.com

Or read some of the short 'Evangelical Tracts' on this site which set forth truths from the Gospel of Jesus Christ.



Here is a photograph of Rachel and myself at a friend's wedding and a photograph of Benjamin and Joshua.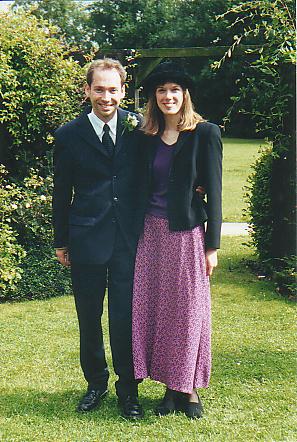 "For the law was given by Moses, but grace and truth came by Jesus Christ."
John 1:17